To make a design for the Safe Routes To School Safety Reflectors for American States, you need to consider how to process the outline of the reflector. most of the outline for the American States is simple. it is easy to have the die cut line for the high-frequency tooling.
but some of the states are not like that. its outline is like the edge of saw blades, then the tooling cannot work like that. so you need to smooth the edge like below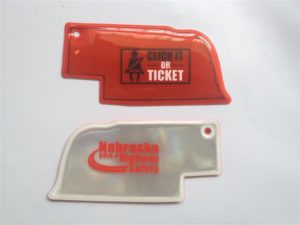 Introduction
The safety of schoolchildren is a paramount concern for parents, educators, and communities alike. One crucial aspect of ensuring safe routes to school is the effective use of safety reflectors. This article will explore the best practices for designing safety reflectors to significantly enhance children's safety on their way to school in American states. Implementing these strategies can create a safer environment for our young pedestrians and cyclists.
Understanding the Importance of Safety Reflectors
Safety reflectors are vital to increasing visibility, especially in low-light conditions or adverse weather. These reflective devices bounce back light from vehicles' headlights, making pedestrians and cyclists more visible to drivers. The strategic placement of safety reflectors on school routes can prevent accidents and protect young lives.
The Optimal Reflective Material
Choosing a suitable reflective keychains material is fundamental to designing effective safety reflectors. High-quality retro-reflective materials are the best choice, as they can direct light back towards its source. This ensures maximum visibility, even from a distance. Popular materials include micro prism and glass-bead technologies, which provide superior performance in reflecting light.
Designing Eye-Catching Shapes
Safety reflectors come in various shapes and sizes, and an eye-catching design can make all the difference. For schoolchildren, fun and engaging shapes can entice them to use the reflectors willingly. Popular plans include stars, animals, and sports-related shapes. However, it is crucial to balance creativity and functionality to ensure that the glasses are still recognizable as safety devices.
Proper Placement and Distribution
Equally important is the proper placement and distribution of safety reflectors along school routes. Glasses should be strategically positioned in areas with higher risks, such as intersections, crosswalks, and near school zones. Ensuring a consistent distribution of safety reflectors will maximize their effectiveness and create a safer path to school for children.
Engaging the Community
Designing safe routes to school safety reflectors should be a collaborative effort involving schools, parents, local authorities, and the community. By involving all stakeholders, we can raise awareness about the importance of safety reflectors and encourage their proper use among children. Community engagement programs can include safety workshops, awareness campaigns, and interactive sessions to educate children about the significance of safety reflectors.
To supplement the information provided in this article, we have curated a list of reputable sources on school safety, reflector design, and related topics. Feel free to explore these resources for a deeper understanding of the subject:
National Highway Traffic Safety Administration (NHTSA) –

: The NHTSA offers valuable insights into road safety, including tips for pedestrians and cyclists.

Safe Routes Partnership –

: This organization promotes safe walking and biking to school and provides resources for community engagement.

American Association of State Highway and Transportation Officials (AASHTO) –

: AASHTO's guidelines include road safety and reflector placement recommendations.
Conclusion
Designing safe routes to school safety reflectors is a crucial step in ensuring the well-being of American students as they travel to and from school. Using suitable reflective materials, engaging designs, proper placement, and involving the community can create a safer environment for our children. Let us come together to protect our young pedestrians and cyclists and make their journey to school a secure and enjoyable experience.